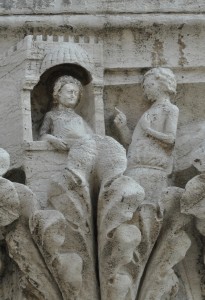 So there is this thing called 'Secret Friends' within Quaker circles it is a lot like 'secret Santa' for those of you who do that, but it often last for a set amount of time rather than just one gift giving moment. I have always liked Secret Friends not just because it is always nice to get something from someone but also because you are often aware that the person who has been assigned to you will try and think of you from time to time. I love partaking in it as an activity.
I try to be good at gift giving but also sending hugs through friends or some form or joint mental gift giving, like asking a friend of my secret friend to take them for tea or a huge cup of hot chocolate. This is on my mind for a number of reasons as I am now trying to do this but in a different way, as I have signed up for the Perfect Stranger project (www.perfectstrangers.co) I have been assigned Cassandra in Canada. I am having fun finding things to send, there is also helpfully this list of things we are expected to add to our parcel:
A wintry treat – The nights are drawing in, so get something to warm the cockles. The choice is yours, but how about scrumptious hot chocolate, a mini hot water bottle or a small hamster. Just kidding: definitely do not post hamsters. The price guide is £10.
A modern-day message in a bottle – For this, you will need an empty spice jar and a memory stick. Record something on the memory stick that you'd like to share: a mixtape, photographs you love, a film. Think about the songs or photos from your collection that you recommend time and again. Pop the memory stick in the jar, and seal it up ready to send into the world.
'What's in my bag?', photocopy edition – Pop into your local copy shop or accomplish this covertly at work. Empty the contents of your handbag, rucksack or favourite pocket onto the photocopier. Remove anything scratchy first, like your keys. Other than that, no cheating. That stray piece of chewing gum stays in, you hear? Make a copy. Now pick a colourful pen and annotate the objects as if you were writing a children's science book. Lighters with sentimental value, bus tickets to see your Nan: tell 'em all about it. – If you don't have access to a copier, you could send something you always keep in your bag instead, such as a fresh tube of your favourite hand cream.
I am also slowly trying to create a great playlist of music, this kind of reminds me of the mix tapes I used to make, a bit like that Nick Hornby book 'High Fidelity', you spend hours fixating on getting the perfect mix of music only to realise that what you are really doing is just trying to share a little of you with someone else.
I need to post my parcel off within the next 11 days, so far I have a mug featuring Cassandra's favourite animal the fox. But I will try and find a few more things to put in over the weekend; it helps that the Christmas markets opened this weekend in Manchester.